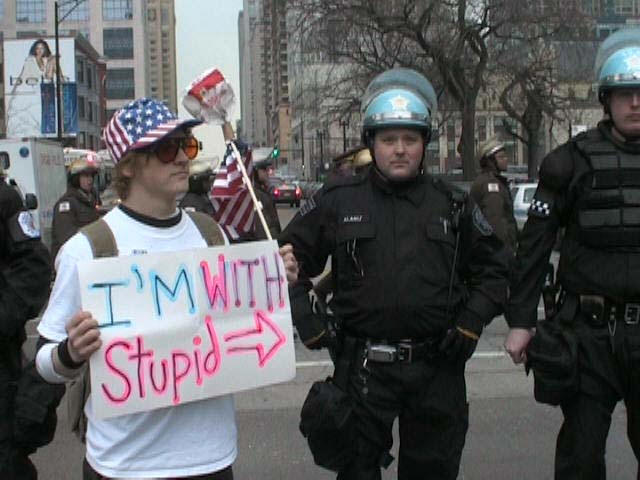 The prohibition of weed is one of the stupidest things mankind has ever done.
I am constantly embattled in the effort to bring sense and sensibility back to the world we live by ensuring we quit locking people up and destroying their lives over this safe, enjoyable, and helpful plant. It is a frustrating fight because none of it makes any fucking sense. It is constantly arguing over what is literally a no-brainer.
Those who continue to support the ideas and policies that have fueled cannabis prohibition are usually just idiots. These dinosaurs have drank the kool-aid for so long that somehow they really believe this shit, and I for one am tired of having to prove what dipshits they are to the world. This is stupid.
There is no sane argument left for prohibiting cannabis. The opposition continues to look like idiots throwing shit at a wall to see what sticks. I am baffled that these losers have the courage to say this shit out loud. Most are lucky that assault is still prohibited because it is all I can do to not bitchslap a person when I hear the word "gateway dru…." (SLAP). My bad.
Yet here we are…. still arguing about this shit. This is basic stuff.
So let me break it down real quick and simple-like for these obviously dim bulbs.
CANNABIS IS NOT DANGEROUS: Just stop it. There is zero evidence of cannabis causing harm to the end user. No… cannabis is not for everyone and should be used responsibly; but over thousands of years of use there are ZERO fatalities from simply using cannabis.
CANNABIS PROHIBITION IS EXTREMELY DANGEROUS: Taking an enjoyable and helpful plant and outlawing it creates an illicit market for production and distribution. The only thing that makes weed dangerous is that the inflated prices of cannabis due to the risk of it being illegal create an unsavory business model. With only those risking jail time for distributing weed being left to control the market, it is not surprising that there are criminal elements that come from an illegal trade. If weed was sold at 7-Eleven like booze there would be no stupid market for the shady elements of our society to exploit for gain.
MAKING CRIMINALS OF EVERYONE IS NOT WORKING: I am not sure how we got to a point where our society allows cops to search people because they think they smell some weed. Nothing is more intrusive into the lives of a citizen than having some strange cop dig through your pockets, your car, and/or your home looking for some fucking weed. When did we create a situation where cops have to play weed babysitter for the entire world? Don't they have better shit to do? Being a cop used to be a respected position in our world, and I still have a lot of respect for people willing to be the first responders to often dangerous situations… but a bag of weed is not a dangerous situation and cops who continue to take mostly poor brown people to jail for weed are war criminals.
WEED HELPS PEOPLE: There are a lot of people who benefit from the effects of cannabis. The obvious is the seriously ill person who finds a better quality of life from using cannabis. But the reality is that a lot of people find cannabis as a useful alternative to other dangerous and legal substances like booze or pills. The human experience is always searching for a way to take the edge off, and rightfully so. Shit is rough out here sometimes. So why are we forcing people to use booze or dangerous pills to achieve what a safe and benign plant can do for them? That is just stupid.
CANNABIS ENHANCES LIFE: Smoking some weed can make any number of life's activities more enjoyable and can enhance one's experience. From watching a good movie to creating amazing artwork, cannabis has enhanced our society and culture greatly. Can anyone imagine what music would be like if no one smoked weed? Cannabis has the ability to open up people's minds and to relax people's fears and issues, thus creating a more enjoyable experience on many occasions. Why would we want to not let people have a better time in their often mundane lives is beyond me.
IT IS NONE OF YOUR FUCKING BUSINESS: When did we become so self-righteous as a society that we can interfere with people's personal freedoms in such a way? I mean, why does Suzy Prohibitionist give a shit what I do so much? Why does anyone give a shit if another human wants to smoke some weed and make themselves feel better? These folks need a hobby or some shit because thrusting your beliefs and your ways of thinking into my beliefs and way of thinking is not working for me. It is none of your fucking business if I smoke weed, just like it is none of my business you eat a bottle of Paxil every month and drink yourself to sleep. Have fun. Knock yourself out. But when you wake up from your red wine and Valium coma how about you back the fuck up off of my lifestyle choices. Thanks.
YOU REALLY WANT ME TO PEE IN A CUP?: This is one of the grossest things we do as a society. The evolution of drug testing is immoral and unnecessary. Let's face it… 90% of drug testing is done to detect who uses weed. Almost all other drugs pass through the system so rapidly they are irrelevant to the drug testing industry. But weed stays in the system for weeks, and it makes it an easy target for those who choose to use weed to discriminate against people for employment, or to put them in jail for probation violations and whatnot. It is gross to think that you want a cup of my urine to prove if I am worthy to do your shitty job. Is that any way to start a relationship? Here… pee in this cup for me. What did you say? You want my piss in a cup? Did I miss something? This is not okay with me.
IT IS NOT WORKING: By any calculation the prohibition of cannabis and the entire war on drugs has been an absolute failure…. and an expensive one at that. We have spent over a trillion dollars with nothing to show for it. There are no less drugs since we began this debacle. We now lock up 25% of the world's prison population while only having 5% of the actual population. Sure… Land of the Free. Gotcha. Addiction rates have remained constant. No more or less people have been found to be "addicted" to anything regardless of how many doors we kick in and families we destroy with this nonsense. The walls of prohibition are crumbling and it is time for folks to get on the right side of history. This whole deal has been a debacle and those who continue to support this utter bullshit need to have their heads checked because there is nothing anyone can say that proves this shit is working in any way whatsoever. The jig is up.
I am tired of even arguing about this shit. It is not even an argument. It is just a bunch of uneducated ignorant people who fold whenever real facts are brought up. This ideological "drugs are bad… except the ones I use" must stop. We must condemn and shame those who continue to put this bullshit forward. We all have better things to do than continue to argue the obvious… PROHIBITION IS STUPID.
We owe it to ourselves to find the strength to really end this thing. Maybe if everyone took a minute from dividing up the pie before it is done baking we could make a more concerted effort to restore sanity to our society. It is all of our jobs to be a vocal voice of reason for cannabis freedom in our communities. Those who want to keep up this nonsense do not deserve our respect our our courtesy. What they deserve is to be called out for the war criminals they are and to make them unwelcome in our society any longer.
We are better than this shit… I do not get what the fuck is taking so long; but this shit is STUPID.