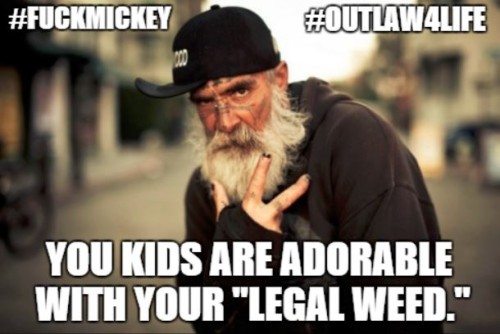 You kids are adorable.
It has been quite the adventure watching 4/20 become mainstream and the weed game become cliche. As folks gather at their weed themed galas and events this weekend to celebrate cannabis, I hope they understand that a lot of what they see is a mirage. The sanctioned and tolerated existence of cannabis freedom for these events does not represent the real world we live in where every day people are losing their freedom, their kids, their jobs, and their standing in the community because of their choice to use cannabis. So live it up for the weekend, but do me a favor… when the party is over commit to also doing the work.
It is easy to enjoy the good times.
There is a lack of reality in the current cannabis landscape. Right now there is a lot of easy and unfettered money running around. All of this false bravado and ego is hard to deal with on most days because I can see the writing on the wall. What kills me though are how many folks have bought into to the "we are winning" mantra that has become the current cannabis industry. Yes. On a macro level we are gaining ground and acceptance. But as an industry and/or movement we are getting our nuts squeezed in a vice; and everyone is too busy patting themselves on the back or chasing the money to give a fuck that they are living in a fantasy land propped up by the "quasi-legal prohibition lite" that is cannabis nowadays.
Anybody with half a brain could understand that where we are at right now is nowhere near where we will end up. 99% of businesses we see in today's falsified marketplace will cease to exist over the next five years. Yeah… that is right. I said 99%; and that is probably generous. The 4/20 holiday is a great time for people to showcase their "next big thing" and where we see people lining up for their shot at the title. It is a circus of assholes who believe they are God's gift to weed. I love seeing these cats throw their money at the wall promoting the silliest shit. For me 420 is a time to examine closely the players and the game, and for me to understand clearly the ignorance I am up against. So to all the hucksters and wannabe moguls, I thank you.
I am sorry if i do not get more excited for the big events and the camaraderie of the holiday. While I appreciate all of the people who love cannabis on 4/20, I am often left wondering where the fuck all of these folks are on 4/21 when it is back to the struggle?
Where are all of these weedheads at when it is time to do the work? Nowhere to be found usually. Once the weed oasis is gone, so are they. They are not here to be a vocal advocate for cannabis reform, and a fair and level playing field for the emerging industry. I never see any of these assholes at the City Council meetings or protests. Not one letter is written to public officials and there will be no phone calls made. Most will not put one dime towards efforts to reform cannabis laws, or to help those who continue to suffer at the hands of prohibition.
It is easy to show up for the party, but where are you at the rest of the year?
I made the commitment many years ago to dedicate my life to ending this madness. Why? Because I love weed and I am not a fucking criminal. The entire deal makes no sense to me, so I have vowed to fight this shit with every ounce of my existence. I do not expect for everyone to have the same level of commitment as I do, but I do expect for them to stand up and be accounted for… and not just for the parties.
We are at a pivotal junction in cannabis history; and it will be our voices that will, or will not, shape the future of how cannabis is allowed in our society. Are you gonna stand back and let big money interests fuck you over so they can make a bunch more money while you are still a criminal for growing plants? Are you going to let legislators and policy makers decide who are the haves and who are the have nots? Are you going to continue to only look out for you and yours while the game is rigged?
It is easy to be a weed rockstar. What is hard is sacrificing your time, energy, and resources to make the world a better place for people who like weed. So this weekend while you are celebrating with your three gram dabs and ginormous joints, just remember there are a lot of people in prison right now for less weed than you smoked on 4/20. There are parents whose kids are sitting in foster care right now because they got caught with less weed. There are patients all over who do not have access to life changing cannabis medicines. There are a lot of folks who lost their good paying jobs because they pissed dirty. There are a bunch of people being railroaded by a system gone bad, and we still have a hell of a lot of work to do to right these wrongs.
It is not about your party or how awesome you are. It is about social responsibility, and a call for real and meaningful change.
So when you wake up still baked from the 2,000 mg in edibles you ate on Tuesday, make a commitment to get to work. Find a way to make a difference and to fight the good fight for cannabis freedom. We need you to do your part, as the final battle for cannabis freedom is here now. Enjoy the party, but do not forget about the struggle. There is too much at stake to leave it to chance.
Be a cannabis hero every day of the year; and hopefully what we create here will be a world where cannabis is allowed to be used by responsible adults for whatever they please, a world where people do not go to jail for weed, and an industry that is fair and affordable for us all to be a part of.
Do the work and the rest will come.