SB 289 is a terrible measure that automatically convicts a person of DUI for having any drugs, including weed in their system. This means if a person is in an accident and they test them and they smoked weed a week ago, they are automatically at fault in that accident because they would have a DUI.
This measure is aimed at opressing minorities and poor people some more with terrible policies and non-scientific convictions. It is a clear abuse of power and must be stopped. Do your part today.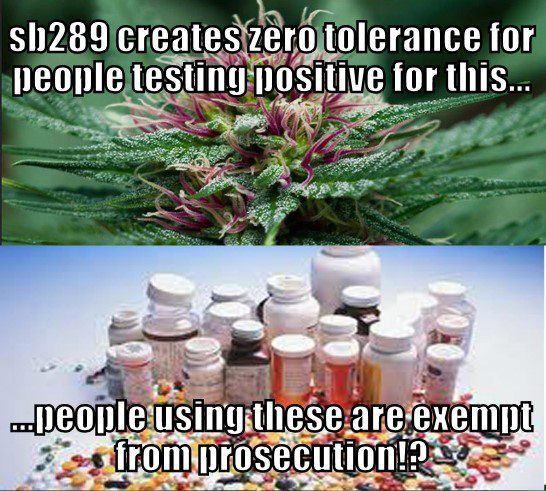 SB 289: Zero-Tolerance Drugged-DUI Measure
Hearings on Tuesday 4-30-2013
Call Today & Leave this message: "No to SB289".
Be polite (we want them to do something for us)
Be Brief ((let them answer more phones for us)
Do this like your driving depends on it, because it does.
Senator Lou Correa 916 651-4034
State Senate Public Safety Committee
Senator Loni Hancock 916 651-4009
Senator Marty Block 916 651-4039
Senator Kevin De León 916 651-4022
Senator Carol Liu 916 651-4025
Senator Darrell Steinberg 916 651-4006
Senator Joel Anderson 916 651-4036
Senator Steve Knight 916 651-4021