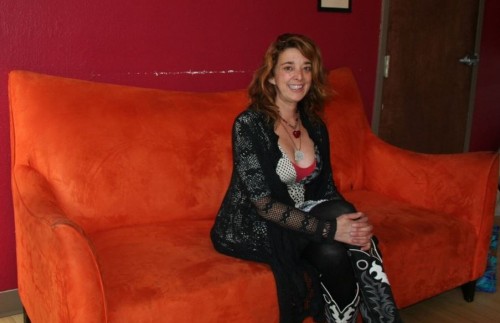 I have avoided writing this story because the last time I wrote a piece about Aundre and her partners in crime in 2012 I was mysteriously attacked and my family was threatened right afterwards. It was 2012, in the thick of the Oakland permitting process, and I wrote a piece about her and her buddy Montel Williams scamming people who she owed money to and lying to Oakland officials to get the open permit there. The piece was called "Why Montel Williams is Bad for Weed." It was one of the last pieces I wrote on my old blog Cannabis Warrior, which I shut down after these fucks followed my wife and took pictures of her dropping my kids off at school, complete with a poorly worded threat to my family that was mailed to me fro Juarez, Mexico under the guise of a Mexican cartel.
This letter was the third attack on me for my story. First I came out one morning to my tires being slashed. Shortly after that happened, Aundre called one of my good friends because she "wanted to talk before things got any uglier." It was an odd message to receive from the person who delivered it, as there was no connection beyond him just being my friend. We had never discussed this person or had any dialogue about one another over the years. It was just out of the blue… a phone call. "Aundre Speciale called me. She said she wanted to talk to you before things got any uglier." I told him to tell her to go fuck herself because she was a thief and unethical lying bitch. We will get into those details shortly.
About a week after that I was leaving a dispensary I frequent in Sacramento when an older white biker looking guy walked right up to the window of my car on a hot summer day and sprayed me point blank with pepper spray. The fuck nailed me right as I was lighting a cigarette and filled my face and the rest of my car up with his toxic spray. Hardly able to see, I took off into the middle of a busy street and was able to pull off on a side road before I got into a major accident. I then crept down the side roads to a nearby hotel and got them to give me a bunch of milk to wash my face and called some local friends to come help me. I had been physically assaulted in public over this shit. It all began to make sense now.
About 10 days later is when I received the letters above threatening my family. My wife was incredibly spooked and she begged me to take my blog down… so I did. CannabisWarrior.com disappeared, I removed myself from Facebook and other social media, and I laid low for several months. I eventually found the courage to start this blog, but you will notice to this day my name is still not directly on it. That was by design. Of course people figured out my writing style and that it was me, and I eventually came out of hiding. It was an incredibly traumatic time for my family, and I am still incredibly angry about it to this day.
So how did it all begin?
Flashback to 2009 after I was sentenced by the Feds for operating Tainted Inc. Aundre was operating Capitol Wellness in Sacramento, and decided she wanted to "help" me out. She donated $2,500 to me when I was struggling, which she would later expect me to give her free bounce houses and snow-cone machines for her lavish parties, as I operated a party rental company at the time. She is a manipulative bitch who tried to hold her lousy donation over my head, as she loves to pretend how altruistic she is and will donate money to people and causes to win their friendship and loyalty. She still does this to this day, and it is a ruse at best. Her sole reason for doing these types of things is to say "See what a good person I am." Don't believe the hype.
She then hired me to do some work for her new facility in Sacramento. We remodeled and furnished her new location and I began to help her develop sound business practices, as she accused all of her staff of stealing from her and that she was losing money. So we developed inventory control protocols and cash tracking systems to help manage the business side of the matter. At the time, she was only paying me half of what she owed, with the big promise that she would repay me everything after she was able to open her Berkeley location CBCB, which she had gotten a permit to operate by conning  the cash strapped previous owners.  I appreciated the work, and was happy to be able to at least pay some bills with the promise of getting paid the rest down the road.
Her and her partner at the time operated Capitol Wellness with reckless abandon. They took advantage of people who brought in weed, taking out loan after loan from these hard working growers and producers in the form of consignment. She racked up literally HUNDREDS OF THOUSANDS in debt from people who were willing to give her the benefit of the doubt and leave product with her. She consistently took money out of the business to fund her lavish lifestyle, pay for her house, and to travel partying from one festival to the next party, claiming her madness was all one big business expense.
Now Aundre on the face is a likable person. She can act very kind and sweet when she wants to, and is amazing at manipulating people. She can turn on the crying any moment she wants to elicit an emotional response. She continued to rob Peter to pay Paul and gave sob stories to the many people she had taken advantage of, while she spent their money on molley and partying like a rockstar. There were literally so many people, including her staff, who she owed money too that it became impossible to give her the benefit of the doubt any longer.
We began working at the Berkeley facility doing the build out there… unpermitted of course. We built the walls, painted the place and installed the flooring that you see there today. At this time Aundre began to really be spread thin, and was running out of lies to tell people about why she didn't have their money. She continued to beg, borrow, and steal from anyone and everyone to continue her party and try to open the Berkeley spot. At this time she began to not even pay us half of what she owed. She expected us to work for free on promises of being paid after it opened. I pulled out of the project halfway through the floor installation, and a couple of the guys I was working with ended up finishing it off and never getting paid for their work. She then hired another contractor to do a bunch of work, who she never paid either. At the time I left we were owed well over $20k. I know the other contractor did a bunch of HVAC work and other major configuration which he is still owed about $50k to this day.
We had written off the money, knowing she was no good for it; but then entered Montel Williams.
In June of 2011 it was announced that a group headed up by talk show host Montel Williams had taken over Capitol Wellness from Aundre and had remodelled their facility to rebrand it as Abatin Wellness, the name it still holds today in Sacramento. They had spent a lot of money to remodel the place and rolled it out as some God's gift to medical marijuana. Here is a news piece he did at the time touting Abatin as a new model that was better than all the stupid hippie pot shops… they since have had to rethink their business model, as it failed miserably.
Now after Montel decided to go all over the press bragging about his facelift to the organization and his role as a "consultant" I was contacted by these two little old ladies who were owed $8,500 from Aundre. They said they had contacted Montel directly and he replied to them they better delete his phone number or he will sick the police on them. Nice guy, right? These were two seniors on a fixed income who desperately needed that money, as they counted on it to supplement their incomes. I agreed to help them organize a protest, and wrote a damning press release and began rallying the troops. The night before the protest the word got out to them and Abatin contacted the ladies and agreed to pay them what was owed in exchange for them signing a Non-Disclosure Agreement. We decided to do the protest anyway without them, as there were many people owed money by her that needed a voice.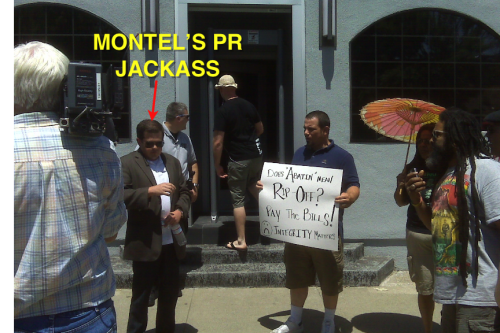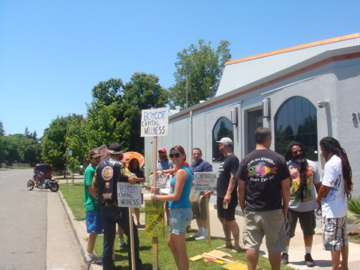 Below is the Press Release that went out:
For Immediate Release:

Montel Williams medical cannabis dispensary owes tens of thousands of dollars to member providers and contractors and refuses to pay their past debts. A protest has been organized by outraged vendors, including two senior citizens who live on fixed incomes and have been greatly affected by their unwillingness to pay their bills.

(Patients and concerned citizens will gather in protest on Friday, June 17 at noon at Abatin Wellness (29th & U) to express their frustrations.)

By: Concerned citizens and hard-working people that Abatin Wellness (formerly Capitol Wellness) have defaulted payment to for goods and services provided. We will be joined by some who question the integrity of an organization that would spend tens of thousands of dollars on facility upgrades, when they owe hundreds of people in the community for their hard work, and have seemingly circumvented the Sacramento ordinance that regulates medical cannabis dispensaries.

• On Monday, June 13th Montel Williams held a press conference declaring his leading role in the newly renovated and renamed Abatin Wellness Center, stating he would be "involved at every level of the cooperative, from the philosophical direction, down to the blueprints." He apparently does not think that financials are included in "everything," as his management group has failed to do the right thing.

• Capitol Wellness Center (CWC) is Sacramento's oldest remaining dispensary and over the past couple of years have mounted hundreds of thousands of dollars in debt due to mismanagement.

• When the new partnership was formed with the "Abatin" group there has been an effort to intimidate and mislead people that are owed money by CWC, using bankruptcy laws and threats of disclosure to discourage people from demanding payment. These underhanded tactics have left many in the community questioning the validity and decency of the new "ownership."

• The City of Sacramento has laid out a clear ordinance regulating the operations and application process for dispensaries, and it seems this group is circumventing the process in several ways, including being closed for more than 30 days and transferring ownership through back door deals.

WHAT:  A peaceful protest of Motel William's and his new "partnership" at Abatin Wellness Center for their lack of integrity, honesty, transparency, and decency. An action to bring awareness to the unsavory business practice happening with the new "ownership" of Abatin, formerly Capitol Wellness Center. A demonstration to demand that the City look deeper into the apparent takeover of a once humble and independently operated dispensing collective by an apparent investment group associated with Mr. Williams, who now is paid a consulting fee for his endorsement of this dispensary; we question how they cannot afford to pay what is owed by the collective but they can afford to pay Montel Williams.

WHO: A group of patients, providers and contractors who are concerned about the business practices of Abatin Wellness Center and their inability to pay their debts to honest and hard-working people, including two senior citizens who live on fixed income and have been greatly affected by Capitol Wellness' defaulting on what they are owed. People directly affected by the apparent take-over and failure to pay by a group associated with TV celebrity Montel Williams.  Other concerned citizens that question the legal ability of this group to circumvent local laws, and use a paid celebrity to gain competitive advantage.

WHERE:  Abatin Wellness Center (formerly CWC) – 2900 U St., Sacramento CA

WHEN:  Friday, June 17th at 12:00 p.m. (Noon)

WHY: To confront the new "ownership" and question their reasoning for not assuming the debt of the corporation upon ownership transfer. Because patients, providers and those who are owed money by this organization deserve to be paid in full BEFORE hundreds of thousands of dollars are spent on renovations, upgrades, and celebrity spokespeople. To bring awareness to a situation that has been handled poorly by the new management group, including attorney Gary Hiller. To let the community know that this group is not worthy of their income and collective resources, as they have defaulted on paying hundreds of hard working people in an already tough economy and to encourage them to go elsewhere in Sacramento for their medical cannabis services.
After the protest I was contacted by many people who Aundre owed money. While most were just story after story about people who had once trusted Aundre only to be burned by her and never paid, there was this one email that provided a lot of insight into the current takeover by Montel and his group of investors. Here is that email in its entirety:
Hey Mickey,

Thanks for getting back to me.  I will definitely be there for the next one.  One of the people i was speaking of is filing small claims on monday.  I have contacted the city attorney here as well as the city clerk that oversee's medical cannabis.  The city attorney didn't respond but he forwarded my email to the city clerk.  She emailed me all CBCB applications and operational standards agreements made with the city.  The commission hasn't met at all this year but her email tonight says that they are meeting in a couple of weeks and as far as i can tell from the paper work she sent…the name on the zoning permit is still aundre's.  I will forward to you in case you are interested…most of it not relevant material.  I may have personal evidence that information was falsified for that permit application here in Berkeley that might be compelling enough to revoke the permit.  I also know that for sac….i was touring with montel, andre, and jim (they were trying to hire me…thank GOD i made the right decision.) the first week they took controlling interest….they were in a mad dash scramble to make that 27th street location appear to be open as aundre was saying something about being in violation of the permit because the doors had been closed for months…as the employee's looted the place because they were not being paid.  Andre was a friend, and on some level i feel bad for her but you can only say sorry and blame your previous partners so much…..  I wish nothing bad for her personally.   I witnessed her pulling cash from the tills to pay her mortgage on her personal residence, I witnessed it again when she was dolling out cash to pay an attorney to represent her suit against the FED's for the farm bust. The employee's claimed to have had an open tab at starry plough on her business credit card.  Meanwhile she was partying at the white house with cheech & chong and the playboy mansion on our dime!!

I don't know if you have had any contact with Shawn Sedaghat or Jim Zaun…they are the management company and Shawn calls all the shots…I met with them last Saturday before montel flew in…this was after a compelling letter i sent to shawn…he replied that he was confident we could reach an amicable solution so i went up and wasted 6 hours of my day…they were 1 hour late…gave me the same bull shit…then claimed that in order to be fair to everyone they wanted to offer us all 1/3 of our outstanding invoices and also go back and 1099 everyone for everything they ever brought in.  3 days before my meeting another friend they owe was called in to meet jim.  jim led him to believe he wanted to meet to settle up the money owed…instead he gave BS excuses and tried to extrapulate genetic breeding info. for his CBD strain.  classy eh?   As i skimmed the paper work from the city of berkeley…which also shows that kris hermes was a partner at some point…anyway i believe i understood that there were not any tax laws in place for vendors as it was a transfer of goods and services within a collective…only tax liability were on the resale/retail side of things.

Shawn is an Iranian multi millionaire investor and he and Montel are close personal friends from the MS foundation and Montel is more than just the face guy.  Montel is heavily involved behind closed doors with shawn.  They have a 2-1 controlling interest on the internal board of directors. It's amazing how many scams follow montel's name…exercise equipment, toaster, juicers, fake coins, and loans…just in a five minute search last night.  I am starting to think he is a puppet for the feds.  What medicinal cannabis patient on this planet would open a dispensary that only appeals to people who would never use cannabis??? those services they claim to offer are already available at many dispensaries…the difference is patients sign up or chose them.  Shawn told me saturday that every patient is overdosing themselves on cannabis and they are going to change that.  my response was that he was overdosing daily on nicotine and coffee which have way more harmfulll effects!!  Hard to prove maybe….but Shawn had never smoke cannabis until i showed him how to use a bong…i am sure he just obtained a card so that he could make millions.  I am more concerned as a patient about the public slander of our doctors (the ones that pur their careers and reputations on the line so patients like him could even have access to the medicine) and the way they have all refered to everyone of us as drug dealers and criminals.  His right hand guy Jim boasts about being a great drug dealer in his past!!!     Montel has known the details of the outstanding debt since… like 2-3 months before they even came on board with aundre…this consulting shit they are saying is smoke and mirrors.  They are preparing to side step liability.  Shawn keeps saying they are meeting with Eric Holder and that he and montel have had this plan to roll out a nation wide model (that the feds will except) that they can then take global. Shawn own a packaging company in Italy that is closely associated with Revlon…they also own a medical packaging business on top of many other business.

This is alot of info…if you ever have the free time we should meet up for coffee.  I am in downtown berkeley.  FYI…i sent my official demand letter to shawn at his email address 48 hours ago… and have heard no response, which was expected.  I will do almost anything to get my money and help others get theirs.  I want both their operating permits revoked!!  I spoke with James Anothony about the debt 2 days ago…he didn't want the case…but when i emailed him back asking if he was interested if i my goal was to revoke their permit….oddly enough he responded and wants me to call him asap about by goals?  Fucking attorneys…  Anyway, i will send over the info. and check with the 2 people i am in contact to get their ok to share their personal info.
This firsthand account of what was going on was too much to ignore. We began planning more protests. I was soon contacted by Aundre on Facebook in hopes of finding resolution. Here are some of those messages:
Aundre Speciale 

April 15

??? im seriously not in control over there anymore. shit got soooo bad i had to hand it over just to keep the doors open. i would love to talk face to face but the short version is from the time you and bill and kimberly and everyone left cw and he took over, not a single thing was handled and by the time i got my head outta my ass and looked at what was goin on over there, we were in sum deep shit. im so fucked myself, swear to jah i didnt get a penny outta the deal, i gotta job for now, but im lookin at filing for bankrupcy. you know me, im a fuck up but i never fucked anyone over, shit got sooo crazy i dint know how to get outta it.
Actually, what it is said that she got out of the deal was her house mortgage paid, her new VW SUV paid off, and a well-paid position as their symbolic "Executive Director." Meanwhile the investment group had taken over operations of both Sacramento and Berkeley.
I was offered a settlement for $12,500 of what was owed to my companies, as that was what was owed to me in wages for services provided. The other folks I worked with on the project were left high and dry. I was also forced to sign a non-disclosure agreement under duress to get my money, which is completely illegal. I continued to speak out on the group and their unsavory business practices. I know of dozens of people to this day who have never been paid. The group was offering to pay people but they would have to agree to sign a 1099 and report EVERYTHING they ever brought into the dispensary, often leaving more of a tax burden than what was still owed. They used their attorneys to muscle many people into just walking away and writing off the loss as an experience in trusting shady bitches like Aundre.
Then came the Oakland RFP process for four new medical cannabis dispensaries and sure enough Montel Williams himself was the sole applicant for Abatin Wellness. I did a lot of investigative reporting on the Oakland process, getting all of the applications through a public records request and running some background checks on many questionable individuals. I was incredibly surprised by Montel's application, as it was literally 27 pages compared to other applications ranging from 200-300 pages each. Like I said, Montel was the ONLY name listed on the application when it was submitted. It was like he truly believed he had it in the bag or something, so much he didn't even have to really file a thorough application.
I continued to pry into the situation, and was not surprised to find out he had been warming up to Oakland City Council persons, including Rebecca Kaplan. The scores came out, and as Oakland's process was highly suspect, four groups with close ties to Oakland public officials were initially awarded the permits. Montel's group came in a paltry 8th out of 10 applicants.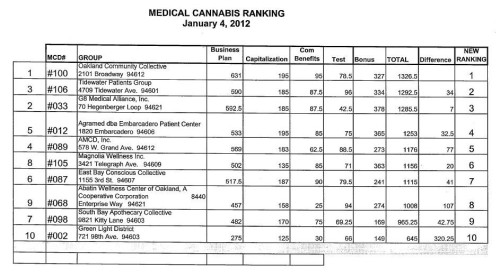 But notice the amazing 94 points they received on their "TEST." You know why? Because Americans for Safe Access California Director Don Duncan took it for them. Now mind you that ONLY Montel's name was on the application. So technically he was supposed to be the only one allowed to take the test. But his team of lawyers made the following compelling argument on why Duncan was indeed on the Board of Directors for Abatin Wellness: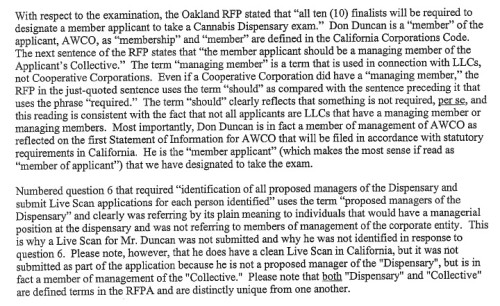 This clearly establishes that the Abatin Group, led by Montel Williams at the time and directed by Aundre Speciale, hired Don Duncan of Americans for Safe Access to be on their Board of Directors and not only take their test for them, but also lobby the City on their behalf.
Months later it was revealed that this same investment group had bought out Don Duncan's interest in his West Hollywood dispensary LAPCG, and Don moved to Sacramento full time to lobby for Americans for Safe Access. It should be noted that many of the policies ASA has lobbied for recently would seem to favor the dispensaries operated by the group through restrictive permitting and barriers to entry. You can decide if that is a coincidence or not.
While the organization came in 8th place, notice that they currently hold a license in Oakland for Phytologie. This is where it got interesting and I got attacked. One of the groups, AMCD Inc. was disqualified around the public hearing phase after it was revealed they had lied on their application.
Shortly thereafter another group, G8 Medical Alliance Inc., was disqualified for their involvement with Dhar Mann who was indicted on 13 felony counts for defrauding the City of Oakland on properties he owned and received grants for. This left one license available and open to go to the remaining group of applicants.
At this time Montel's group hired a local Oakland attorney who had close ties to City officials to lobby on their behalf because they had a building they had purchased ready to go. They began to try to discredit other applicants through false reports of their operations and tried to undermine the other applicants to get the one available remaining permit in Oakland. It was enraging to hear about their efforts, as Aundre literally screwed over half of the industry and sold her soul to get Sacramento and Berkeley open and operating. Now she was spreading false rumors that other folks were shady? No way…
So I began to compile evidence and submitted it to the Oakland City Administrators office. I was aware that the Abatin group was filing public information requests for my communications and the City gave me the option of not submitting the evidence, as it could not be kept confidential. I submitted it anyways, as it was the right thing to do. Several other folks who she owed money to also contacted the City to tell them about her immoral business practices.
This was when my friend received the ominous phone call that Aundre wanted to talk to me before things got ugly. Shortly after all of my tires were slashed, followed by me being pepper sprayed while leaving a dispensary in Sacramento. Then I received the threats to my family pictured above. It changed my life. I was forced to remove my Cannabis Warrior blog and I lived in virtual hiding for several months. It still traumatizes my wife to this day and I have little doubt about who was behind it.
And after all that, another applicant dropped out of the race and they were awarded the permit anyways as the only remaining viable option.
I later found out that Aundre had an ex-boyfriend pull a similar stunt on her threatening her in the name of a Mexican drug cartel. This was just too much to ignore given the timing of it all, and the demand that I stay off of the internet in the letter that threatened my family.
It took me a long time to reconcile the situation and I have mostly remained quiet. My wife begged me to let it go, and for the most part I have. It was not an easy task as these fucking people actually followed my wife and kids around taking pictures of them and threatened their well-being. I wake up angry about it every day, and I have lost plenty of sleep over the last two and a half years since it happened. I live under guarded security at this time, with security systems and cameras in place at all times.
To add insult to injury, I shared these photos once on Facebook and was contacted by the FBI regarding the matter. That is right. The FBI. They were concerned for my safety. Go figure. What an interesting discussion that was.
So why bring it up now you may ask? Why put these accusations out publicly after all of this time? Why risk mine and my family's personal safety again? What do I gain from it all? Is it worth it?
To be honest I do not fucking know. I know I have been carrying this around for the last two and a half years and very few people in my inner circle are aware of the situation. I do not think anyone is aware of it in its entirety as spelled out here. For me, it is cathartic to put it out there for the community to absorb. I would rather die with my boots on. I can no longer allow the fear for my family paralyze me. I know in my heart what happened and can no longer sit idly by without saying anything. It is not in my nature. It was only a matter of time. My reality is that I either had to write this piece or I would probably end up enacting some repressed revenge one day that would get me in a lot of trouble. I do not need that; so I decided to spell it out here in the open for all to see and let it go. This community can decide if they want to continue to allow people like this to prance around like they are some Debby Do-gooder when in all reality they are immoral fucks who have burned a lot of people and who will continue to burn more to achieve their objectives.
So as you sit there tomorrow at the International Business Conference in San Francisco watching this fraud speak on the Dispensary 5000 panel like some sort of expert, know that she a.) has no idea how to operate a dispensary; b.) fucked over innumerable people and then sold them out to fund her ventures; and c.) is a terrible person willing to be a part of unspeakable acts to further her efforts. If that is who you want to stand behind and hold up as some sort of expert, then I guess we have a different opinion of what this industry should be about. There is no room for these types of folks to have a seat at the table, no matter how innocent and sweet their manipulative ass makes them sound.
Aundre is one of several snakes that have used their connections in the community to work their way into the inner circles of the cannabis community. She is now merely a puppet like so many others who make appearances and work to bullshit their way to the top on behalf of their overlords. It disgusts me to see her wander around at events like she never ripped everyone off and everything is okay. For a lot of people out tens of thousands of dollars it is not okay. She often portrays herself as a victim, blaming anyone and everyone for the damage she caused…. and a lot of folks have bought this bullshit story hook, line, and sinker- often attached to a favor or fancy donation. It must suck to have to buy friends.
At one time I considered Aundre a good friend. I always knew she was a troubled human from the days when she tried to open a dispensary in Venice while whacked out on dope, and her strong arm maneuvers to gain total control of Capitol Wellness from her former partner; but I too bought the story for a period of time and chose to ignore the telltale signs of her fraud. That was my bad.
My hopes of retelling this tale is to create an understanding of what type of beast we are dealing with here, and the types of underhanded and aggressive tactics that are taken to silence people like myself. This is a person who cannot be trusted, and who is using her smiley face, and standing in the community, to fuck over people to benefit her investors.
If I am harmed again for speaking out then so be it. That is a chance I would have to take. The officer that responded to the threats when we initially received them told me "I know you are a convicted felon, but sometimes a person has to do what they have to do to protect their family. I am not telling you to get a firearm. I couldn't do that, but…"; and he left it at that. He agreed that this was not the work of a cartel because they generally do not send letters. What he did say was, "Whoever you pissed off, you got very close to something." I agreed…. and I knew who and what I had gotten close to.
I have since received even more damning evidence from upper level management that used to work for them. The whole deal is incredibly shady…. and these are the people we are advancing as experts and representatives of ethical business practices at our events? Spare me. I am over the whole fucking deal and am glad to finally have it off of my chest. Now I do not have to explain it, or sit in silence about it. It is done.
I am sure Aundre will deny every word of this, and that is okay. She has spent her entire life lying, so why would I expect any different now? I don't. But everyone of you who know her know you have been lied to at one time or another. You have heard the stories and the tall tales. You have forgiven them as irresponsible and childish behavior. I for one disagree. I cannot forgive and forget. I will not. I can't…. and now you know why.
Selah.