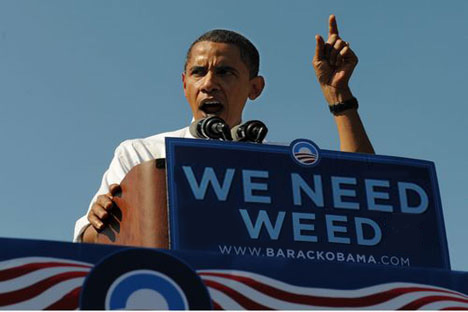 I was excited to see that 175 of our Nation's most influential leaders in the civil rights, entertainment, music, faith-based, sports, fashion, media, and political communities  have come together to challenge President Obama to END THE DRUG WAR AND MASS INCARCERATION.
Orchestrated by the great and progressive Russell Simmons, these leaders have written the President a letter demanding that he put an end to these policies that have devastated our communities and have decreased public safety and quality of life over the past 40 years. The drug war is a failure. We lost. The drugs are winning by a long shot. We have locked up just about everyone we can lock up, and still our streets are filled with drugs and the black market drug trade.
Our law enforcement continue to fight this meaningless crusade against our own people and they are getting their ass kicked. We have charged them with being drug nannies and inspecting everyone's person and property for these evil drugs. Meanwhile, we waste innumerable man hours that could be spent on fighting and preventing real violent crimes. A recent study showed that NYPD alone spent ove a MILLION man hours on weed in the last decade, and have ZERO to show for it. So besides getting their budgets inflated to fight imaginary and self-imposed crimes that are really more health issues, law enforcement has lost a lot of their position as the "good guys" in our society. In many minority communities the cops are seen as the enemy because of their overzealous drug enforcement, and in turn, when real crimes do happen like a murder, they have a difficult time finding any witnesses who will even talk to them. Their role as drug warriors impedes their ability to investigate real crimes. So it is time to let these guys get back to work, and end this disaster, and to let our brothers and sisters out of jail already.
It is inspiring to see this well-organized effort making the case. Below is the letter that was sent to President Obama and the 175 people who have joined the fight as activists in the fight to end the drug war and mass incarceration policies:


Your hard work and leadership on issues affecting the unrepresented classes of people in our nation have served as an inspiration to many of us who hope for brighter futures for all Americans. In that spirit, we believe the time is right to further the work you have done around revising our national policies on the criminal justice system and continue moving from a suppression-based model to one that focuses on intervention and rehabilitation. We are proud of your accomplishments around these issues, specifically your leadership on gun control, your investments in "problem solving courts," your creation of the Federal Interagency Reentry Council, your launching the National Forum on Youth Violence Prevention and your prosecution of a record number of hate crimes in 2011 and 2012. We certainly hope that this type of leadership is appreciated by all members of Congress, regardless of political affiliation, and you are joined by members of all parties in your pursuit of a more perfected union.

Mr. President, it is evident that you have demonstrated a commitment to pursue alternatives to the enforcement-only "War on Drugs" approach and address the increased incarceration rates for non-violent crimes. Your administration has moved in the right direction by committing increased funds to drug prevention and treatment programs and supporting state and local re-entry grants. We encourage you to continue your efforts to revamp the policies of the last 30 years that have seen the prison population skyrocket.

The greatest victims of the prison industrial complex are our nation's children. Hundreds of thousands of children have lost a parent to long prison sentences for non-violent drug offenses, leaving these children to fend for themselves. Many of these children end up in the criminal justice system, which comes as no surprise as studies have shown the link between incarceration and broken families, juvenile delinquency, violence and poverty.

Mr. President, we are a coalition of concerned advocates that is ready to support you in more innovative criminal justice reform and implementing more alternatives to incarceration. As you set in motion research and policy to combat this societal crisis, this coalition is poised to help you make the transition successful. In 2010, the passage of the Fair Sentencing Act was a tremendous step in the right direction, and we appreciate how hard you worked on getting that done. Some of the initial policies we recommend is, under the Fair Sentencing Act, extend to all inmates who were subject to 100-to-1 crack-to-powder disparity a chance to have their sentences reduced to those that are more consistent with the magnitude of the offense. We ask your support for the principles of the Justice Safety Valve Act of 2013, which allows judges to set aside mandatory minimum sentences when they deem appropriate.

We ask that you form a panel to review requests for clemency that come to the Office of the Pardon Attorney. Well-publicized errors and omissions by this office have caused untold misery to thousands of people. Additionally, we want to applaud your staunch commitment to re-entry programs that are necessary to ensure that those who leave the system are able to become productive members of society as well as reliable husbands, fathers, mothers and wives. We certainly would like to help you achieve an increase in the number of these transition programs. Finally, we strongly urge you to support the Youth Prison Reduction through Opportunities, Mentoring, Intervention, Support, and Education (Youth PROMISE) Act, a bill that brings much needed focus on violence and gang intervention and prevention work.

During your presidency you have made important steps and you now have the opportunity to leave a legacy by transforming our criminal justice system to an intervention and rehabilitation based model. Many of those impacted by the prison industrial complex are among your most loyal constituents. Your struggles as the child of a single mother allow you to identify with millions of children who long to be with their parents. We request the opportunity to meet with you to discuss these ideas further and empower our coalition to help you achieve your goals of reducing crime, lowering drug use, preventing juvenile incarceration and lowering recidivism rates. We stand with you, ready to do what is just for America.

CIVIL RIGHTS LEADERS & ADVOCATES
Harry Belafonte
Julian Bond
Dr. Benjamin Chavis
Major Neill Franklin, LEAP
Rev. Jesse Jackson
Benjamin Todd Jealous, NAACP
Avis Jones-Deweever, National Council of Negro Women
Maria Theresa Kumar, VotoLatino
Donna Leiberman, NYCLU
Margaret Moran, LULAC
Marc Morial, National Urban League
Ethan Nadelmann, Drug Policy Alliance
Rev. Al Sharpton, NAN
Rashad Robinson, Colors of Change
Anthony Romero, ACLU
Michael Skolnik
Julie Stewart, Families Against Mandatory Minimums
Susan Taylor
Dr. Boyce Watkins
Brent Wilkes, LULAC
Vanessa Williams, National Conference of Black Mayors
Rev. Lennox Yearwood, Hip-Hop Caucus
ENTERTAINMENT
La La Anthony
Roseanne Barr
Russell Brand
Jim Carrey
Cedric The Entertainer
Margaret Cho
Affion Crockett
Rosario Dawson
Cameron Diaz
Mike Epps
Omar Epps
Jamie Foxx
Tyrese Gibson
Adrian Grenierhere u
Jon Hamm
Hill Harper
Woody Harrelson
Amber Heard
Dule Hill
Ron Howard
J Ivey
Terrence J
Eugene Jarecki
Kris Jenner
Scarlett Johannson
Kim Kardashian
Khloe Kardashian-Odom
Kourtney Kardashian
Sanaa Lathan
LL Cool J
Nia Long
Eva Longoria
AnnaLynne McCord
Demi Moore
Michael Moore
Keya Morgan
Jay Pharaoh
Dominic Purcell
Tim Robbins
Chris Rock
Susan Sarandon
Sarah Silverman
Russell Simmons
Vanessa Simmons
Jada Pinkett Smith
Will Smith
Tika Sumpter
Gabrielle Union
Denise Vasi
Mark Walhberg
Estella Warren
Kerry Washington
Pauletta Washington
Marlon Wayans
Jesse Williams
Jeffrey Wright
FAITH COMMUNITY
Bishop James Clark
Bishop Noel Jones
Bishop Clarence Laney
Bishop Edgar Vann
Dr. Iva Carruthers
Deepak Chopra
Father Michael Pfleger
Rabbi Robyn Fryer Bodzin
Rabbi Menachem Creditor
Rabbi Nina Mandel
Rev. Jamal Bryant
Rev. Delman Coates
Rev. Leah D. Daughtry
Rev. Dr. Fredrick Haynes
Rev. Michael McBride
Rev. Dr. W Franklyn Richardson
MUSIC INDUSTRY
David Banner
Eric Benet
Andre "3000" Benjamin
Big Boi of Outkast
Case
Charlamagne tha God
Sean "Diddy" Combs
Chuck D
DJ Envy
DJ Pauly D
Ani Difranco
Jermaine Dupri
Missy Elliot
Estelle
Jason Flom
John Forte
Ghostface Killah
Ginuwine
Keri Hilson
Jennifer Hudson
Ice-T
Luke James
Trinidad James
Lyfe Jennings
Jim Jones
Talib Kweli
John Legend
Ryan Leslie
Joanna "JoJo" Levesque
Kevin Liles
Ludacris
Lil Wayne
Natalie Maines
Angie Martinez
Nicki Minaj
Mya
Q-Tip
Busta Rhymes
Steve Rifkind
Samantha Ronson
Rick Ross
RZA
Timeflies
Katrina "Trina" Taylor
Teyana Taylor
Angela Yee
BUSINESS LEADERS
Sir Richard Branson
Ron Busby, US Black Chamber of Commerce
Daymond John
Minyon Moore
Chip Rosenbloom, Owner St. Louis Rams
Bobby Shriver
ELECTED OFFICIALS
Congressman Tony Cardenas
Congressman Keith Ellison
Congresswoman Marcia Fudge
Congresswoman Barbara Lee
Congressman Bobby Rush
Congressman Bobby Scott
ATHLETES
Brendon Ayanbadejo
Allan Houston
Isareal Idonije
Lamar Odom
Etan Thomas
Isiah Thomas
Mike Tyson
FASHION INDUSTRY
Tyson Beckford
Selita Ebanks
Kenza Fourati
Kimora Lee Simmons
Veronika Verekova
MEDIA
Chris Broussard
Chuck Creekmur, AllHipHop.com
Ed Gordon
TJ Holmes
Cathy Hughes, Radio One
Alfred Liggins, Radio One
Dylan Ratigan
Jim Wallis, Sojourners
Dave Zirin
ACADEMIA & THOUGHT LEADERS
Michelle Alexander
Dr. Carlton Brown, Clark Atlanta Univ.
Prof. Michael Eric Dyson
Dr. Christopher Emdin
Dr. Michael Fauntroy
Dr. Eddie Glaude
Airickca Gordon-Taylor
Dream Hampton
Dr. Marc Lamont Hill
Naomi Klein
Dr. Jawanza Kunjufu
Dr . Wilmer Leon
Dr. Julianne Malveaux
Dr. John E. Maupin, Jr., Morehouse School of Medicine
Kevin Powell
Dr. Stanley Pritchett, Morris Brown College
Ricky "Freeway" Ross
Dr. Tyra Seldon, Co Chair, Education Over Incarceration (EOI)
Dr. Beverly Daniel Tatum, Spelman College