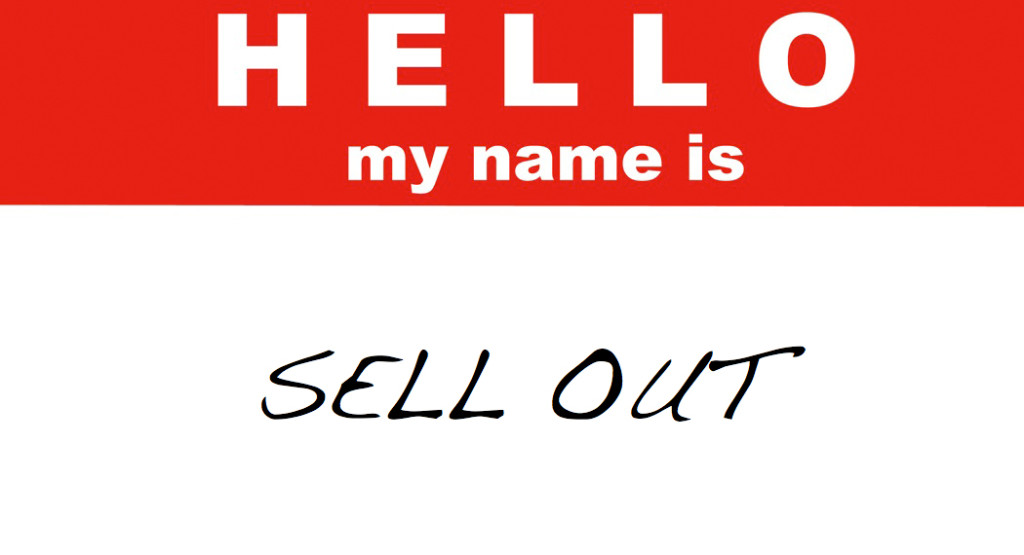 Who can you trust? The answer is probably no one. Everyone seems to have a price these days.
It is becoming commonplace to see well-known one-time activists cross the line to bought and paid for shills. It is disheartening and to be honest, it continues to sadden my existence in the cannabis landscape. I am so exhausted at trying to keep up with who is on whose team now, and who bought which activist for what sell-out scammer project to legitimize their efforts. It is becoming more folks than not, and I can no longer let my respect or affections for folks cloud my judgement.
If you are a sell-out fuck working for people whose intentions are to whore out this industry for their own personal gain then we are no longer friends, associates, or whatever the fuck it was that kept me from telling you to go blow a goat years ago. I don't care who you are. If your moral, ethics, and your ability to influence people are for sale to the 1% of the cannabis industry, then you too can go take a walk down Go Fuck Yourself Street.
But the way these frauds are getting to you is what you may not even notice. On top of enlisting well-known activists to huck their bullshit scam at events and directly in person, what you see are these fraud savvy assholes infiltrating cannabis media sources to get them to push their messaging in a way that just seems like normal everyday reporting. They attempt to tie in the product to a storyline, or gloss it over in a manner that makes an obvious fraud seem palatable.
It is affinity fraud. I have discussed this before, but here is that definition one more time for review:
From the SEC:

What is an Affinity Fraud?

Affinity fraud refers to investment scams that prey upon members of identifiable groups, such as religious or ethnic communities, the elderly, or professional groups. The fraudsters who promote affinity scams frequently are – or pretend to be – members of the group. They often enlist respected community or religious leaders from within the group to spread the word about the scheme by convincing those people that a fraudulent investment is legitimate and worthwhile.These scams exploit the trust and friendship that exist in groups of people who have something in common. Because of the tight-knit structure of many groups, it can be difficult for regulators or law enforcement officials to detect an affinity scam.
The "spread the word" part is where media becomes so handy. It used to be cannabis media would just shill out over someone's fancy new grow product or stupid grinder. The company would buy a bunch of advertising and give a bunch of free gear to the magazine, and one of the well-known writers for the mag would throw them a bone in the form of a positive review of their deal. It was fairly transparent and people understood that relationship. To be fair, publications would often reject doing these pieces too if the products really were inferior.
Fast forward to now, and what you see is a much different playing field. The scams we see being put forth, and paid for in our cannabis media, are large scale corporate frauds that are using these outlets to push their ruse. I was reminded of this after discovering a series of article on Kannaway/Hempmeds products in Cannabis Now Magazine by a well-known activist named Angela Bacca. (DISCLOSURE: Angela Bacca worked for me last year for a couple of months, and it did not work out due to differences in work ethic and responsibility issues)
Angela has worked hard to make herself a known commodity in the cannabis industry. She worked with Ed Rosenthal for a long time, claiming she basically wrote his book for $12 per hour and she made a lot of contacts at that position. She also worked with Ladybud Magazine for some time, to which she made a lot of contacts with cannabis writers and activists. She has used these relationships and positions to create credibility and she is generally well-liked in most circles. I generally think Angela is a good person, who has been put in a tough place by the folks at Cannabis Now, who are making the money for her work.
Which is why I was ultimately shocked to see her writing fluffy push pieces singing the praises of the Kannaway/MJNA/RSHO/Hempmeds bullshit scammers. Medical Marijuana Inc./Cannvest are at the forefront of scamming folks in the name of cannabis. Their CEO was brought up on fraud charges, and their entire operation is slimey. Their latest ruse is Kannaway, a multi-level marketing scam that preys on the goodwill of others by claiming their CBD rich products derived from hemp are legal in all 50 states. They are taking this one step further and encouraging people with needs for cannabis medicines to "don't move," offering their hemp alternative as a legal substance. The truth is it is not. CBD is very much an illegal schedule 1 drug still according to the DEA. For more details on this ruse check my Snake Oil story.
But here are the three pieces done by Angela Bacca and Cannabis Now Magazine that make zero mention of possible conflicts or lies; but instead, use their content and trust with their audience to basically push press releases from these folks as if they were legitimate and worthy opportunities. WTF?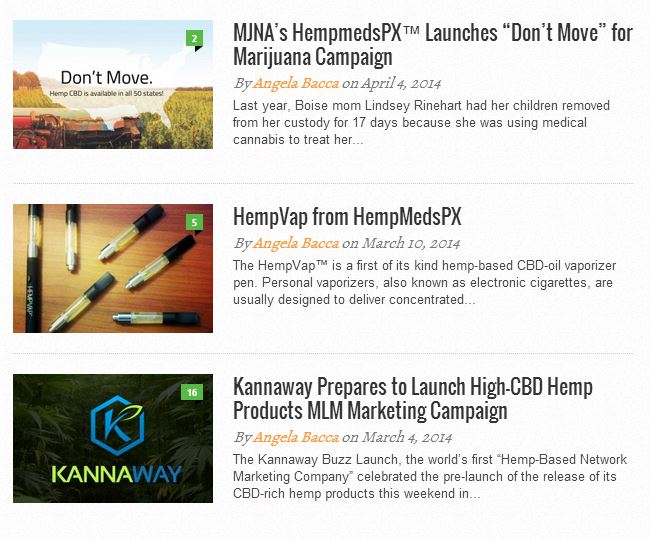 I bring this up as an example of what I know to be a direct payola scheme, where money from a company is going to a publication to push their scam. I have friends who operate publications who have been approached by these folks offering a lot of silver coins for their willingness to sell out Jesus. It is obvious that Cannabis Now magazine, and their bona fide activist Angela Bacca, have taken the bait and have been obliged to run these push pieces to further the legitimacy of these known scam artists. It is sad.
What is sadder is that I know a lot of people who write for that publication, whose names are being tarnished in association with this bullshit. Cannabis Now is certainly not alone, but it is such a blatant example of cannabis media selling out morals and ethics for money, that it is impossible to ignore. Yeah… that is a nice advertisement they took out in your magazine. Bet that cost them a pretty penny. But the reward of having a person who has won over the hearts and minds of the community out there shilling your scam products is worth it. You see…the fraud cannot happen without the affinity.
The truth is that it is becoming more and more difficult to tell who still has their morals and ethics in tact. The circle of trust is shrinking considerably, and it will likely only get worse as we go.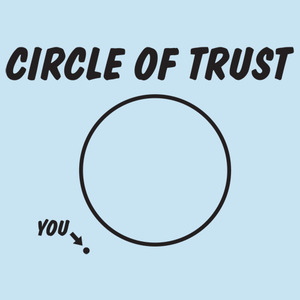 We are surrounded by people who are willing to offer their morals up for a few lousy bucks to get by. It is a sad reality, but reality nonetheless. It is nice to think we would all stand on ethical principle and be trustworthy people, but human nature tells us this is not the case. Those with the ability to use their influence to penetrate the affections of cannabis users and activists will be heavily targeted for their support. When the money is on the table and no one else is looking it is interesting to see who is willing to cough up some affinity to help sell the frauds.
There are lots of people willing to use their voice to convince you that the devil is just an old friend. As cannabis media continues to grow, those who control these messages will be courted for their allegiances, and unfortunately, many will sell you and your affection for their publication right down the river for some shiny trinkets. You can choose not to believe it if you want. The fact is that it is happening, and it is happening A LOT.
So as you glance over the latest piece from your favorite weed magazine, ask yourself, is this a real piece of journalism or is it a cleverly disguised advertisement for someone or something? Look deeper into what you read to try and find the real motivation behind the piece. Look beyond the glossy headline and the introductory paragraph that makes you want to believe this is a real story, and see if by the end you have not been influenced to support a product or organization. Use a critical eye to more deeply examine the purpose of a story, and do not blindly read shit believing it is legit because the person who wrote it is a trusted source. There is no such thing when big money enters the equation. People will sell-out.
Even my shit you can question if you like. Notice I carry no advertising on this site. It is by design to ensure the views here are not influenced by any other interests than my own bad attitude and desire to make weed legal. I can promise you I will never sell-out to the highest bidder and use my influence to huck some bullshit scam…but who the fuck am I? Question everyone.
A lot of what passes for journalism in the cannabis world is simply not. It is well-crafted pieces of bullshit that were bought and paid for by the subject. If you cannot see it for yourself, there is only so much I can do to point it out to you. I am asking you to use your awareness and intellect to look past the distraction, overcome your trust of this person or that magazine, and ask the hard hitting question of "what is this piece pushing?"
You can be sure a lot of what you are reading are bought and paid for pieces meant to sucker you out of your money.
Culture Magazine is literally one long advertisement made into a magazine of "reviews." When is the last time anyone saw a negative review of anything in that piece of shit rag? LOL. The fact that they allow Carol Sherman a monthly column should make it pretty clear that their goal is to help their advertisers take your money. Nothing more. Nothing less. There is no education or real news in there. Just one fluff piece pushing some bullshit after another. Culture magazine is the worst. At least Cannabis Now has the courtesy to try and cleverly hide their sell-out pieces under the guise of real stories. Culture is basically one whore piece followed by another with very little qualms about it. I am not sure which is worse.
What I do know is that there is a lot of bullshit floating around that is being pushed off as media and journalism. It is up to you as a reader and consumer of media to look for the scam and decide if you want to keep patronizing publications that are nothing more than sell-outs and cheap hookers for big companies trying to win over the cannabis community. I will keep my weed media radar set to "highly skeptical." You should too….