Weed Activist will be updating the election results as we get them…
WASHINGTON LEGALIZES WEED…
as of 9:04 p.m.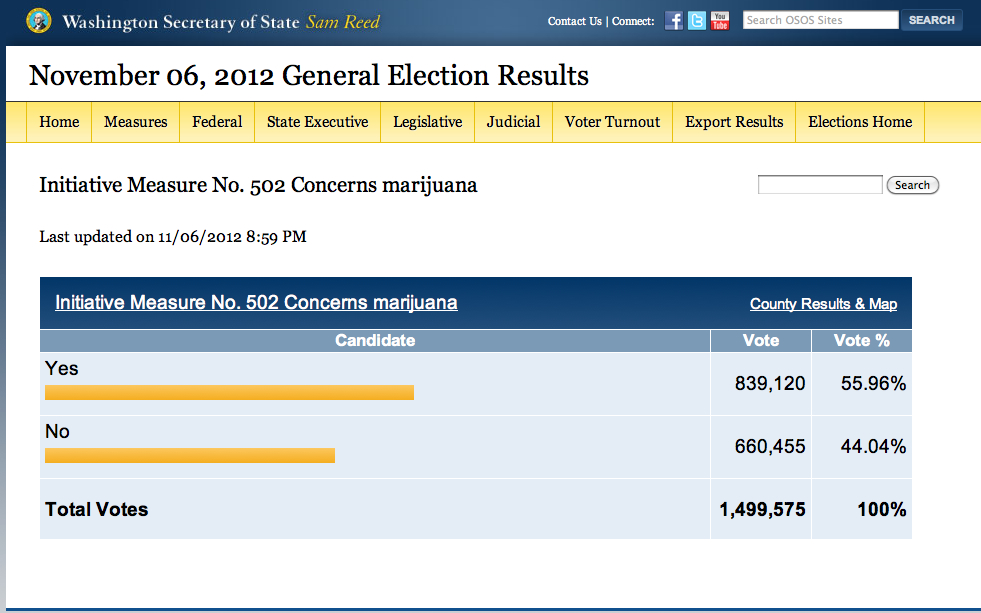 SOURCE: MARIJUANAMAJORITY.COM
OREGON STRUGGLING…BUT BIG CITIES USUALLY LAST TO SUBMIT, SO HOPE REMAINS…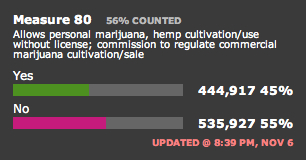 MEASURE 80 AS OF 8:43 P.M. (56% reporting) COME ON OREGON! BE A MIRACLE…..
News 9 in Denver
WEED PASSES IN COLORADO!
SOURCE: 9NEWS DENVER
DENVER – Voters passed Amendment 64, allowing for the legal, recreational use of marijuana, according to 9NEWS Political Analyst Floyd Ciruli.
Amendment 64 will allow adults over 21 to possess up to an ounce of marijuana. It also would allow people to grow as many as six marijuana plants in private, secure areas.
More than 300 Colorado doctors offered their names in support of Amendment 64. However, the state's chapter of the American Academy of Pediatrics urged a "no" vote. Supporters say alcohol does far worse things than marijuana.
"We know that many Coloradans are ready to end the failed policy of marijuana prohibition," Campaign to Regulate Marijuana Like Alcohol spokesperson Betty Aldworth told 9NEWS in September. "We can create a system where marijuana is controlled. We will have an easier time keeping it out of the hands of children."
She cited a recent study by the Centers for Disease Control which suggests marijuana use among high-school students in Colorado dropped between 2009 and 2011 as evidence that medical-marijuana regulation is having an impact.
"In an unregulated, underground market there are no controls," Aldworth said.
Voters rejected Amendment 44 in 2006. That amendment would have legalized the possession of a small amount of marijuana, but did not include the regulatory framework that Amendment 64 possessed.
Colorado Results listed live here.
As of 7:26 p.m.

As of 8:07 p.m. 30% reporting

Massachusetts voters approve ballot measure to legalize medical marijuana
By Chelsea Conaboy, Globe Staff
 People with debilitating medical conditions and permission from their doctors will be able to buy marijuana from state-sanctioned distribution centers starting next year. Voters overwhelmingly approved a ballot question that makes Massachusetts the 18th state to legalize medical marijuana. With 49 percent of the vote counted, 63 percent had voted in favor of the measure, 37 percent against it.
While opponents of the law warned that its passage could increase recreational use of marijuana, especially among teens, members of the Committee for Compassionate Medicine lauded the vote as a win for patients who have been waiting for legal access to a drug thought to relieve pain and muscle stiffness associated with certain chronic conditions.
Eric McCoy, 59, of Boston, who said he has multiple sclerosis and has used marijuana medically for 17 years expressed relief that voters had supported the measure.
"Now that this law has been passed, it will finally be legal and safe for myself and many others in the state to procure the medicine," he said.
All New England states but New Hampshire now have legalized medical marijuana in some form.
The ballot effort was funded in large part by Peter Lewis, chairman of the Progressive insurance company, who has said he supports lifting the ban on marijuana.
Under the Massachusetts law, patients with HIV, multiple sclerosis, hepatitis C, or other conditions can obtain a card from the state permitting them to purchase the drug and will be allowed to possess a 60-day supply. They also may appoint a caregiver to obtain the drug on their behalf.
The Department of Public Health is charged writing the rules within about four months to fully implement the law, within the framework outlined on the ballot, and registering at least one nonprofit distribution center in each county, with up to 35 allowed in 2013.
Kelly Sielis, 21, a Boston University student and first-time voter said she has watched her mother deal with anxiety as she undergoes cancer treatment and believes some patients might reasonably look to marijuana as "a more natural alternative" to other medications.
"I think the illegalization of marijuana is outdated," Sielis said.
Some saw the initiative as a veiled step toward full legalization of the drug.
"We just opened our door to a billion dollar industry that can capitalize on anyone with pain and our young people," said Heidi Heilman, president of the Massachusetts Prevention Society. Opponents, she said, did not have the money to fight the ballot initiative effectively.
The Massachusetts Medical Society, the state's largest physician group, opposed the proposal, saying large clinical trials and federal regulators — not popular opinion — should determine whether marijuana has therapeutic value. But supporters of the state law say the typical drug approval process has been thwarted by federal drug policy.
Other opponents worried that the law could lead to more recreational marijuana use among teens, who may believe the drug is safe once it is labeled as medicine, and they warned that marijuana produced in state-sanctioned facilities could be diverted to the black market, as has happened in other states.
Molly O'Connell, 33, said she went back and forth on the ballot question and ultimately decided to vote against it when she cast her ballot at Duxbury Middle School Tuesday. She worried about the policy's impact on teens.
"I teach high school, and I see how readily available marijuana is now," she said.
Abuse of the law to sell marijuana for non-medical purposes will be considered a felony punishable with up to five years in state prison
Medical Marijuana fails in Arkansas
Posted: Nov 06, 2012 10:56 PM PSTUpdated: Nov 06, 2012 10:56 PM PST
LITTLE ROCK (KATV) – After Tuesday's elections, 18 states plus the District of Columbia now allow marijuana for medical use.
Arkansas voters decided not to join them, though. The final count came out much closer than most polls predicted, ending around 48 percent in favor, 52 percent against.
Issue 5 sought to legalize the drug for medical use even though marijuana remains illegal in the eyes of the federal government. Arkansas would have been the first southern state to approve such a measure. Instead, we join South Dakota as the only state where voters have said, "no," to medical marijuana.
Jerry Cox with the Arkansas Family Council credited several high profile voices for leading to the measure's defeat.
"I can't say enough about the fact that the governor came out against it, the attorney general, Congressman Tim Griffin, the Arkansas Medical Society, the Chamber of Commerce, the Chiefs of Police, the Sheriff's Association; the list just goes on and on."
Both Colorado and Washington state took the legalization of marijuana a step further Tuesday, approving cannibas for recreational use. It remains to be seen what, if any, response the federal government will have to this development.