History is a funny thing. It is hard to predict and happens in short rapid bursts.

But make no mistake….history is being made. As the news of Colorado's first sales of weed to non-medical patient adults over 21 floods the airwaves, the walls of prohibition crumble. America is absorbing this slow-moving revolution. As people watch responsible adults purchase their weed at well-lit and clean facilities, their vision of the criminally shady element that cannabis has been portrayed as melts away. The sky has not fallen; and when the sky continues to not fall after being told by prohibitionists for decades that it would, Americans will wake up to the fact that they have been lied to.
People hate being lied to. That is why this thing ends this year.

The toothpaste is WAY out of the tube. There is no putting it back. It is over. We can work out the details of what it all looks like in real time, but the writing is on the wall. It is only a matter of time now before this is all a distant memory, and cannabis is returned to its rightful place in our society as a safe, enjoyable, and helpful plant. But there is still a lot of work to make that happen in a way that is reasonable and fair. There is a lot to overcome in a short period of time, but I think we are up for the task.
Now is the time to go for the killshot. We should be applying every ounce of pressure we have to the neck of these drug warrior assholes. There is no looking back. It is time to storm the castle for the final time. This will end; and it will end very soon if we are effective in our strategic planning.
Do not listen to the voices that say "Be patient. Just wait." There are reformers within our movement that would have you believe that we must wait and not create real tension. These folks would have you believe that "if we play our cards right we could see the end of prohibition in the next five years."
Fuck those people. They are in on it.
They are PART OF THE PROBLEM. Nothing worse than a pathetically transparent effort of self-preservation through retarding growth by eroding people's confidence. I am not trying to be mean, but I hope every person who makes their money "reforming cannabis laws" is out of a job this year. I hope we get the laws reformed, and those folks (like the DEA) can move on to greener pastures. That is what we are all fighting for, right? An END to prohibition?
In the now famous Letter from Birmingham Jail, penned by Martin Luther King Jr. at the height of the civil rights struggle, this is what he said about "waiting."
We know through painful experience that freedom is never voluntarily given by the oppressor; it must be demanded by the oppressed. Frankly, I have yet to engage in a direct action campaign that was "well timed" in the view of those who have not suffered unduly from the disease of segregation. For years now I have heard the word "Wait!" It rings in the ear of every Negro with piercing familiarity. This "Wait" has almost always meant "Never." We must come to see, with one of our distinguished jurists, that "justice too long delayed is justice denied."
For years now I too have heard the word "wait." From lawmakers….from law enforcers…from probation officers….from people opposed to cannabis….and all too often from those who stood beside me.
I can wait no longer. I will not.
I am touched by the response we see happening in the press, as adult use legalization rolls out in Colorado (and soon to be Washington and Uruguay). The world has certainly changed from the days I stood on the street in Santa Cruz, CA gathering signatures for Prop. 215.  The long and tiring journey will eventually come to an end, and if I have anything to do with it that end will come quickly.
So what is the big plan? How do we do it? Well, I am glad you asked…..A strategy of direct action and a demand for accountability at all levels is a good place to begin.
I refer back to Dr. King's Letter from Birmingham Jail when discussing the type of non-violent campaign we must orchestrate to end this thing. He wrote:
In any nonviolent campaign there are four basic steps: collection of the facts to determine whether injustices exist; negotiation; self purification; and direct action.
After the determination that the injustices were very real and attempted negotiation, Dr. King began the difficult process of "self-purification" leading to direct action. He stated:
We had no alternative except to prepare for direct action, whereby we would present our very bodies as a means of laying our case before the conscience of the local and the national community. Mindful of the difficulties involved, we decided to undertake a process of self purification. We began a series of workshops on nonviolence, and we repeatedly asked ourselves: "Are you able to accept blows without retaliating?" "Are you able to endure the ordeal of jail?"
The struggle of the civil rights movement in the 1960's was an amazing effort that taught our communities and the world many valuable lessons. We can learn from the successes (and even some failures) of prior social movements where we can use our influence as citizens to create real change.
One of the most effective tools used were economic boycotts of goods and services that supported the unjust policies of segregation; and those same types of pressures could be used to end prohibition now. We need to identify the groups, organizations, businesses, and individuals who are propping up the drug war, and encourage our networks to not support them, or spend their money with them. If we can drive enough folks to quit doing business with companies that fund prohibition and support mass incarceration policies, we can force them to change their positions this taking pressures off lawmakers to make more reasonable policies for drugs in our society. Shit rolls uphill sometimes.
If we can create a platform of awareness, and a powerful enough social movement that begins to make a real dent, it becomes more difficult for them to continue these charades. We must also attack funding sources for law enforcement that are used to fund this bullshit war. Lawmakers want to talk about "fiscal responsibility?" How about the trillion dollars we have wasted arresting and imprisoning mostly poor people for petty drug crimes?
As citizens, we must organize campaigns at every level of politics to demand a change in how our law enforcement resources are spent. I do not mind having a robust law enforcement presence, but let them work on REAL crimes and REAL public safety issues. Quit pressuring good cops to arrest their neighbors on stupid weed charges to pad the arrest statistics to justify even more spending. Let good cops do a good job; and if they arrest a few million less people for stupid shit every year, but maybe catch an extra drunk driver, or investigate fraud, or track down actual violent criminals, that is great. We do not need less cops. We need the cops to be allowed to actually investigate and do their fucking jobs instead of feeling the need to rummage through some guys car because he smelled some weed.
Economic-based boycotts are something that we can do relatively easy through social media and word of mouth. They do not have to be massive to work either. Small local boycotts can be extremely effective too. Why would we give our money to people who support putting us in jail for our choice to use weed? I still do not eat Kellog's cereal because they fired Michael Phelp's after the infamous bong picture. There are a lot of companies that support prohibition because it is good business for them. Look at a company like Victoria's Secret that uses mass incarceration as a source of cheap labor for their goods. Yup…we can boycott companies that use prison labor, which in turn pressures prison lobbies and privately owned prisons, who in turn have influence with lawmakers, who can end these policies once and for all.
But economic influences are only part of the story. It will also take hard work, sacrifice, and likely some real pain to end this deal. We will also need to accomplish major messaging points through civil disobedience and organized protest. Folks must be willing to put some time and energy into taking the killshot. We must go to the meetings. We must speak up loudly. We must organize WEED-INS. We MUST demand to be heard.  We cannot allow our opposition's position to go unanswered anywhere….not in the media, at local meetings,  or in a conversation at the grocery store. WE MUST BE VIGILANT…….we like weed and we are good people.
Check out the movement happening in Philly right now as they Smokedown prohibition. These kids are doing it. Taking criminal charges and suffering real consequences for their right to burn and to call for an end to prohibiton. Amazing stuff:
It is also an election year and we can influence politics on many levels. We should make every effort to influence local. state, and national politics with our weed message. Be at the town hall meetings to ask the tough questions. Write a letter to the editor about how you do not think this candidate should not be elected because they still believe in mass incarceration and locking up our neighbors for weed. Gallup's recent poll showed that 58% of our communities (at least) are in our corner. I imagine that number will increase rapidly once the world sees that a legal cannabis market is possible, and that the results will actually be a net positive.
Politicians on both sides of the aisle are already discussing the issue: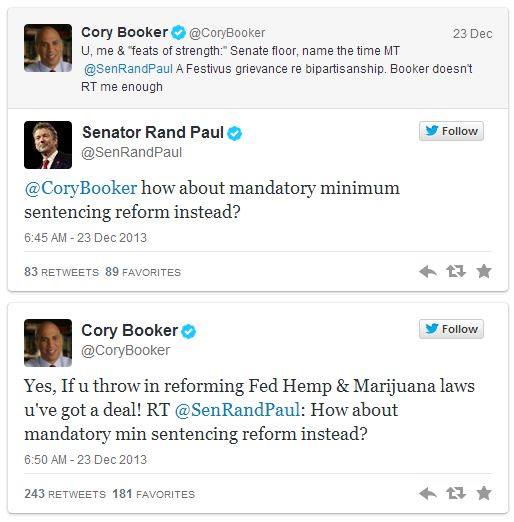 Politicians listen to money, public safety, and opportunities for the communities they serve. Learning to tailor our message to influence politics is key. The cost of prohibition is an absolute failure. It is not hard to see how locking up 5x the people as the rest of the world is expensive and wasteful. As people see that public safety levels are either unaffected, or (gasp) more favorable after legalization takes hold in areas, the myths will be debunked and the real safety cost of prohibition black markets  will be exposed. Sorry…any time you take billions of dollars in illegal drug sales off of the streets and put them into regulated tax paying business structures your community will be safer. The more we can prove positive attributes and opportunities to communities with little risk to public safety, the easier it will be to get politicians to allow for, and even promote, cannabis in their communities.
Direct action campaigns at politicians events who are running for office is an easy way to create awareness and drive the conversation. It only takes one courageous person with a marker and a piece of cardboard to make a powerful impact at a campaign event, or local happening. Be that person….and bring a friend. And the next time bring another friend….Then get those friends together to write some letters. Get those friends to invite even more friends; and then take your group of friends to meet other groups of similar cause for larger action….and the walls will crumble action by action, and voice by voice.
This is going to happen. We must ride the wave and drive the conversation. It is the end of prohibition if we want it to be. Will you pull the trigger with me?